VOIP Infographic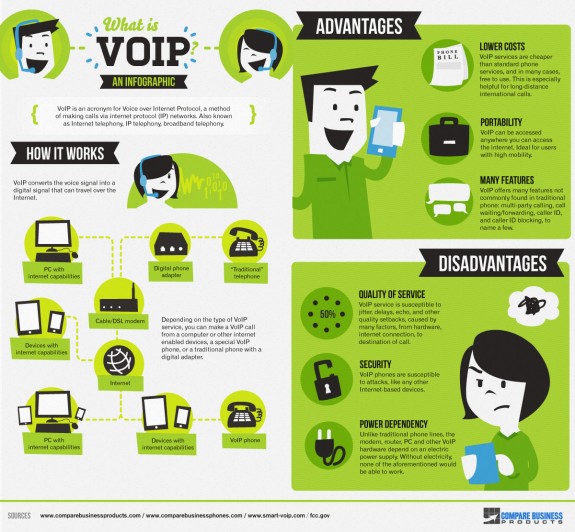 What is VOIP?
VoIP is an acronym for Voice over Internet Protocol, a method of making calls via internet protocol (IP) networks. Also known as Internet telephony, IP telephony, broadband telephony.
How It Works
VoIP converts the voice signal into a digital signal that can travel over the Internet.
Depending on the type of VoIP service, you can make a VoIP call from a computer or other internet enabled devices, a special VoIP phone, or a traditional phone with a digital adapter.Advantages
Lower costs

VoIP services are cheaper than standard phone services, and in many cases, free to use. This is especially helpful for long-distance international calls.

Portability

VoIP can be accessed anywhere you can access the internet. Ideal for users with high mobility.

Many features

VoIP offers many features not commonly found in traditional phone: multi-party calling, call waiting/forwarding, caller ID, and caller ID blocking, to name a few.
Disadvantages
Quality of service

VoIP service is susceptible to jitter, delays, echo, and other quality setbacks, caused by many factors, from hardware, internet connection, to destination of call.

Security

VoIP phones are susceptible to attacks, like any other Internet-based devices.

Power dependency

Unlike traditional phone lines, the modem, router, PC and other VoIP hardware depend on an electric power supply. Without electricity, none of the aforementioned would be able to work.
www.comparebusinessproducts.com / www.comparebusinessphones.com / www.smart-voip.com / fcc.gov
Embed This Image On Your Site (copy code below):